Specfication
Full Data
Inquiry
We are specializing in the production of BS4504 flange English-standard rubber Expansion Joints, our BS4504 English-standard flanged rubber Expansion Joints have been sold to many Commonwealth countries.The standard of flange drilling is BS English-standard.
Rubber material can be selected according to the fluid.Standard galvanized flange materila is carbon steel. Also available 304 stainless steel, 316L stainless steel and others.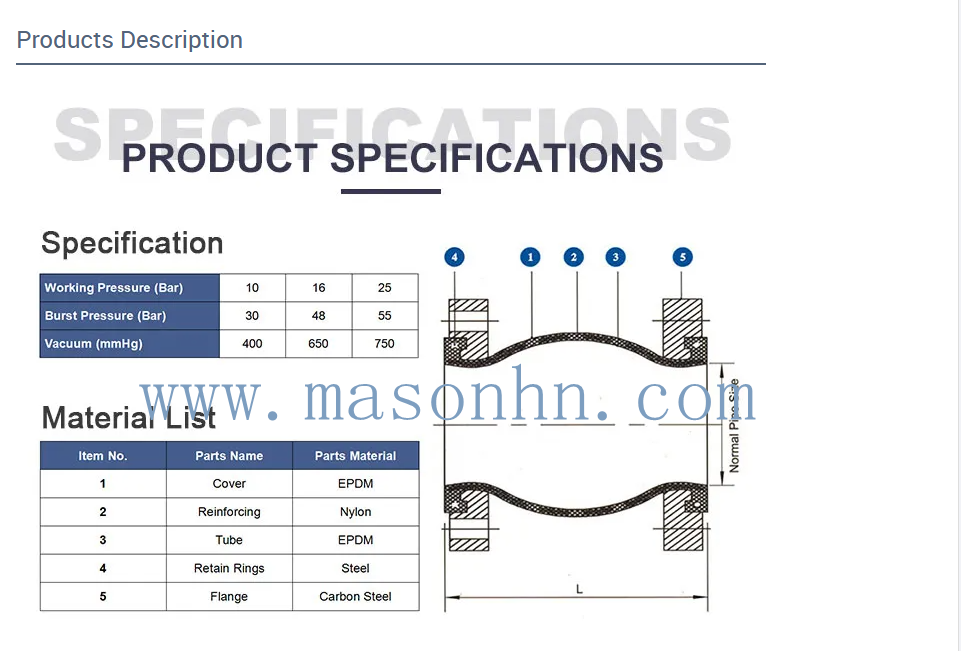 Advantages:

1.18 years manufacturing experience.
2.The largest size in China:DN3600MM.
3.The longest service life, DN2600 single sphere rubber expansion joint for HEBEI Power Plant in 2006, it still works now.
4.Qualified Nuclear Power Plant supplier.
5.Excellent annnual sales performance of rubber joints: 1.01 million USD last year.
6.Competitive price, our price is not the lowest and not highest.
7.Rubber body length can be customized.

After-Sale Service and Technical Assistance:
(1) year from date of shipment to Buyer. If any such product is found to be defective by reason of faulty workmanship or materials, then upon written notice and return of the product, and at Mason's sole discretion, the defective product will be replaced or repaired by Mason free of charge at Mason I's factory.
2) Staff: manufacturing pipe fittings since 1998, with well-trained and rich-experienced local workers. The structure of the work can reduce the noise, vibration absorbing ability