Specfication
Full Data
Inquiry
EPDM rubber expansion joint offers a number of advantages, and is usually used in piping to prevent damage to surrounding structures. These EPDM rubber expansion joints help to provide relief from thermal, extension and contraction stresses in pipes or duct installations.EPDM Rubber are widely used in the industries such as petroleum, chemical industry, paper making, construction, water supply and sewerage works.

EPDM rubber for ethylene propylene diene monomer rubber. EPDM has excellent acid, oil performance. The refers to how it's classified according to the ASTM standard D-1418. The rubbers that fall under the M class all have a saturated chain of polyethylene. The ethylene content of EPDM is usually between 45% and 75%, and the higher the ethylene concentration, the higher the loading potential.


Temperatures:
It can typically withstand temperatures ranging from -50°C to 150°C (-58°F to 302°F).
Advantages of EPDM rubber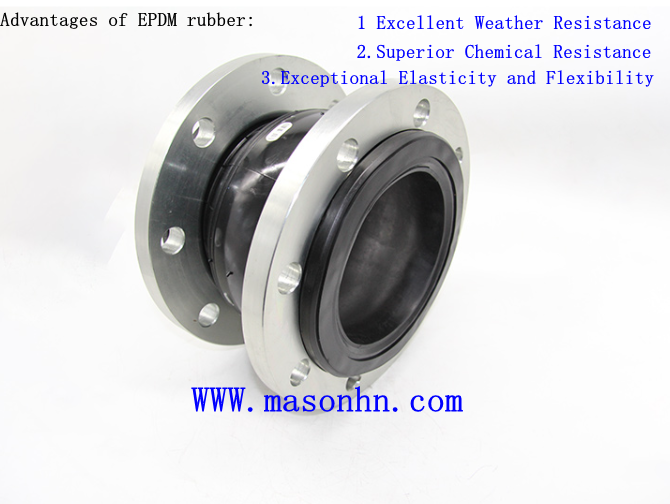 Excellent Weather Resistance: EPDM rubber offers outstanding resistance to weathering, UV radiation, ozone, and extreme temperatures. It can withstand prolonged exposure to harsh environmental conditions without deteriorating, making it a durable and reliable material for outdoor applications. EPDM rubber maintains its flexibility and structural integrity, ensuring long-lasting performance even in demanding weather conditions.
Superior Chemical Resistance:
EPDM rubber demonstrates excellent resistance to a wide range of chemicals, including acids, alkalis, oils, and solvents. This chemical resistance makes it suitable for use in industries such as automotive, manufacturing, and chemical processing, where exposure to corrosive substances is common. EPDM rubber remains stable and does not degrade when in contact with various chemicals, contributing to its longevity and reliability.
Exceptional Elasticity and Flexibility
: EPDM rubber is known for its high elasticity and flexibility, allowing it to stretch and recover without losing its shape or integrity. This property makes EPDM rubber versatile and adaptable to different applications, particularly those requiring movement, expansion, or contraction. Its flexibility enables it to seal effectively against irregular surfaces and accommodate various joint movements, making it an ideal material for gaskets, seals, and expansion joints.
Main connecting dimension